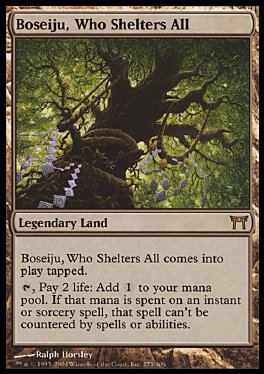 Boseiju, Who Shelters All
(
Boseiju, Who Shelters All
)
Set: Champions of Kamigawa
Color: Land
Cost: -
Type: Legendary Land
Rarity: R
Text
Boseiju, Who Shelters All comes into play tapped. T, Pay 2 life: Add 1 to your mana pool. If that mana is spent on an instant or sorcery spell, that spell can't be countered by spells or abilities.
Cards of equal color/cost that Boseiju, Who Shelters All
Cards of equal cost and different color that Boseiju, Who Shelters All